---
1,520 Total Contest Entries!
Upcycling - 15 Categories - Mainland US/Canada/U.K./Ireland/Europe
---
---
---
---
---
---
---
---
---
---
---
---
---
---
---
Instructional/Demonstration Videos - 2 Categories - Mainland U.S. Only
Upcycled Furniture Video - 7 Entriesreturn to top
Upload a link to a 2 minute or less video on your favorite technique. Video must be made after April 2017. Requires the display and use of 1 GF product.
Got Furry Wood?
By Cheri Bandt, Owner at Said Your Way Studio in Auburn, IN.
Got Furry Wood? Tips on how to prevent grain raise peel up when making stenciled wood signs.
Transforming a Side Dish Table into a Main Course Masterpiece
By Isabella's Inspirations, Furniture Painter & Designer in Woodbridge, VA.
Is it easier for you to watch a demonstration video rather than read a 'how-to' article? I agree! That is why I decided to share a video on transforming a dark, traditional side table into a beautiful piece for a coastal-vibed family room. Once I knew this family room would take on a beach theme, General Finishes Persian Blue Milk Paint was the first color that I thought to use. This soft blue is reminiscient of an ocean view with the sun shining down and reflecting off the beautiful and endless blue waters.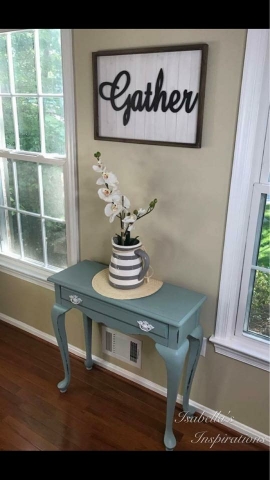 Spice it Up
By Meg Foster in Green Bay, WI.
Hi I'm Meg and I wanted to show y'all just how easy it can be to turn an old used piece of furniture and make it beautiful again. The best feature that I love about General Finishes paint is that it is self leveling so when you have finished the piece there are virtually no brush strokes, without even sanding! I like to start with a foam brush because it is so easy to get the paint onto the furniture and achieve nice even strokes. But I also like to use my smaller standard paint brushed to get the fine details that the foam brush just cannot reach.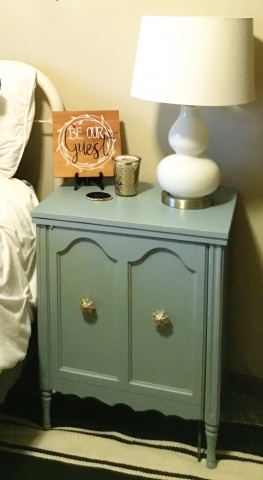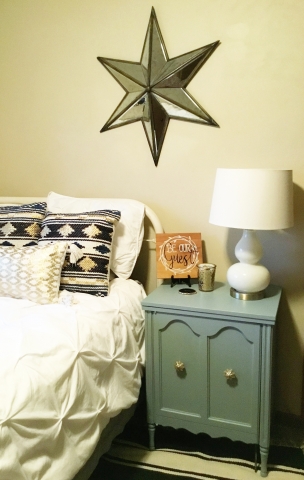 ---
Woodworking Video - 4 Entriesreturn to top
Upload a link to a 2 minute or less video on your favorite technique. Video must be made after April 2017. Requires the display and use of 1 GF product.
Grain Pop with Seal A Cell on Bookmatched Ebonized Maple
By Ryan, Owner/Craftsman/Photographer at LumberLust Designs in Phoenix, AZ.
We've been commissioned to create two custom ebonized maple 20x18 C-Tables with steel chevron frames. We cut out top pieces from a large 8/4 big leaf Maple live edge slab and then resawed the piece to have a bookmatched pair of tops at a finished thickness of 5/8."  All bark voids and cracks were filled with System 3 tinted epoxy resin, the piece was ebonized using an aniline dye.  This video shows the first grain pop with General Finished Seal A Cell after ebonizing and finish sanding,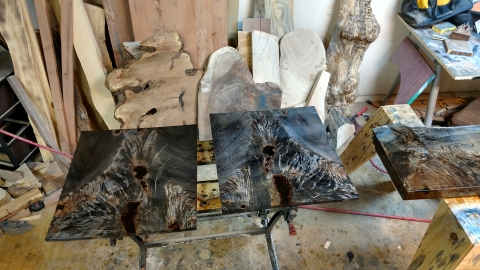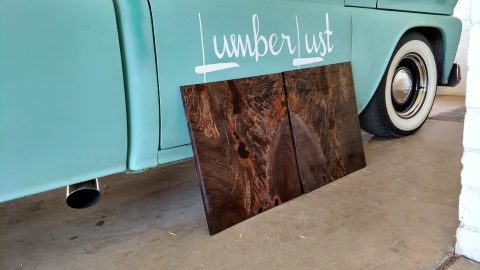 Seal a Cell on Mesquite Urban Lumber reclaimed Live Edge slab
By Ryan, Owner/Craftsman/Photographer at LumberLust Designs in Phoenix, AZ.
First grain pop on this large figured Mesquite live edge slab that will be a waterfall coffee table. We are applying seal a cell prior to cutting the miter waterfall to help prevent any tear out. We followed that up with 2 coats of Arm R Seal Gloss with the last 2 top coats in Satin (gloss before satin for durability and clarity), half sheet sanding with 320 between coats.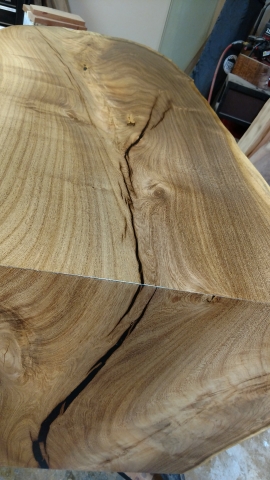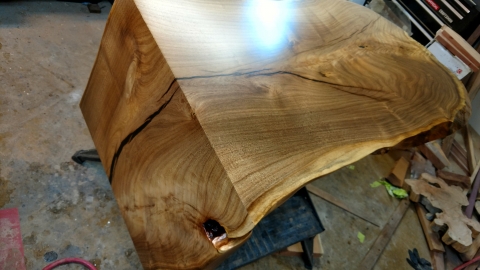 Distress and Glazing with Glaze Effects
By Mike Reddy, President at All Access Adaptations, LLC in Booneville, AR.
A quick video highlighting the use of General Finishes Water Based Finishes with an emphasis on distressing and using General Finishes Glaze Effects Van Dyke Brown to highlight those distressed marks.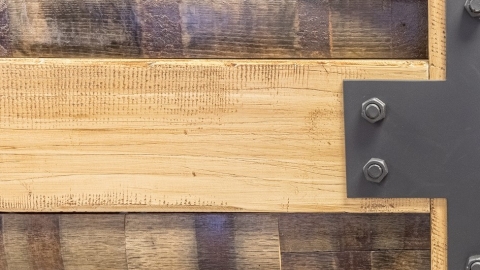 ---
European Treasures - Mainland U.K./Ireland/Europe Only
European Treasures - 15 Entriesreturn to top
Submit entries embellished with lustrous finish adornments of any kind, including gold/silver wax, or any gilding or metallic finishes on the body of the piece. This category is reserved for Mainland UK, Mainland Ireland and Mainland Europe. Requires the use of 1 GF Product.
Golden Grey Love
By Emporium K, IE
This petite chest of drawers was fairly plain but I saw the potential in her. I painted the whole piece in Driftwood and sealed with High Performance Top Coat. To add some bling and beauty to her, I added Efex mouldings bead trim all around the top and mouldings to the centre of each drawer. I painted these in Pearl Effects and then  I gilded all of these in gold and re coloured the beautiful drawer pulls in gold to match.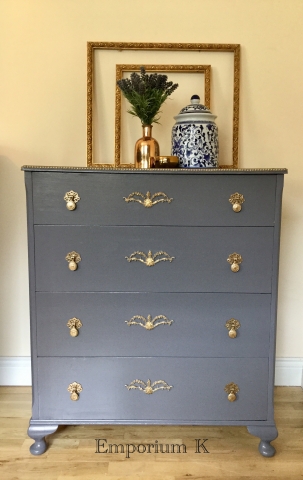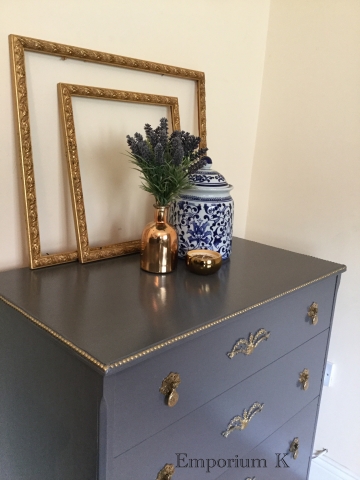 Old Gold Sideboard
By Kate Clowes Holt
Vintage bow fronted sideboard - changes colour in the light. 
Method - base coat of FMP Bedford, FMP bronze sponged on in a random method.  Top coat of FMP antique glaze applied with crunched up newspaper.  Dark wax and rub and buff to age and highlight the details.
General Finishes Gel Stain in the colour Java used on the top to bring out the natural grain of the wood and varnished to give a beautiful but practical surface. 
The inside of the top drawer has been recovered in black felt and the rest of the inside was cleaned and waxed.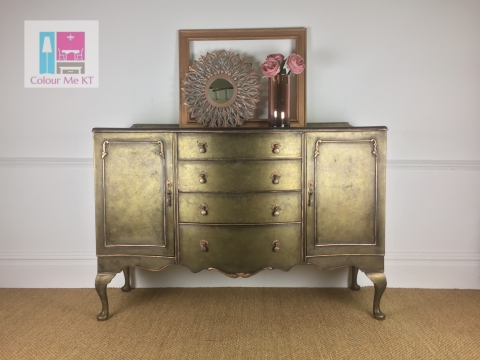 Ginkgo Biloba elegance
By Wanda McKenna, Mrs at Monkey Décor in Navan, MH, IE
This Ginkgo Biloba inspired bureau was build around contrasts: matt & shine, dark & bright, classic & modern. 
I've chosen black and dark shades of greys as a canvas for sparkling copper accents. I used copper leafs and some metallic paint to achieve the look. 
I love leaving the best parts of the original woodwork so i left old intarsia around the edges and i refreshed the top of the piece by applying general finishes maple woodstain.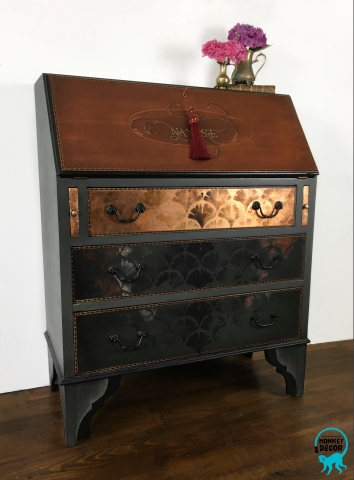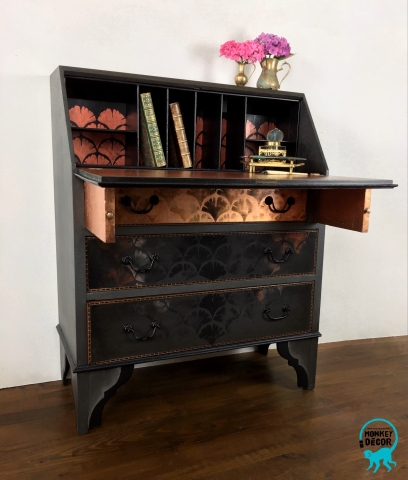 ---
Wood Turning - 14 Categories - Mainland US/Canada/U.K./Ireland/Europe
---
---
---
---
---
---
---
---
---
---
---
---
---
---
Woodworking - 7 Categories - Mainland US/Canada/U.K./Ireland/Europe
---
---
---
---
---
---
---