---
101 Piece Ornament
By Kurt WK in Skokie, IL.
Winning Category
This ornament is made form 101 peices of maple and walnut.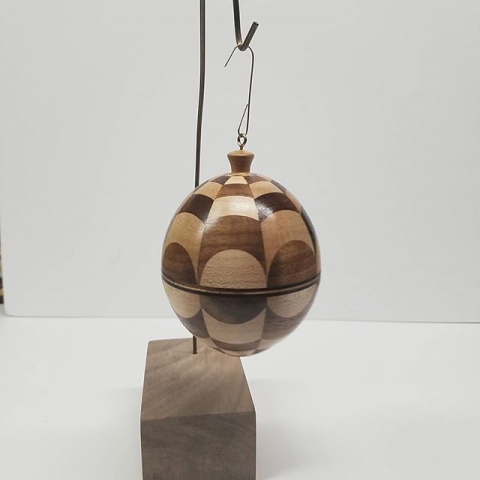 George's Kaléidoscope
By David DeCristoforo
Winning Category
Kaleidoscope w/ interchangable object boxes. Can be used on the stand or hand held by removing the scope from the openable cage. One object box is oil filled and one is openable to allow the contents to be changed. All parts are friction polished. Made from oak burl, ebony and ebonized maple.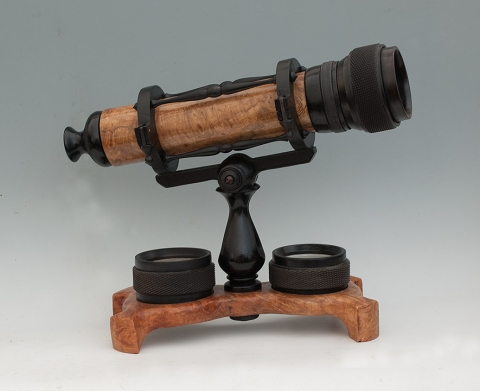 Amflora
By David DeCristoforo
Winning Category
My take on the Greek Amphora. I have made a number of pieces in this style but I think this is the best of them. Honduras rosewood burl and ebony.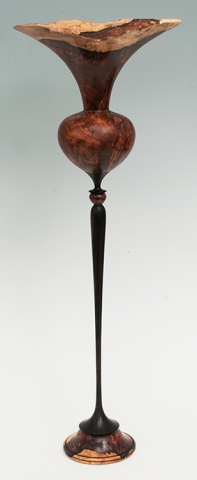 Emerge
By Darren Throop in Green Bay, WI.
Winning Category
Emerge measures just 3.5" tall by 2.25" wide, and weighs just 32 grams. This ornament was created from sumac (the emerging flower) and an unknown hardwood species (leaves & stem). The globe, or the flower, was turned and hollowed on the lathe, then carved using a Dremel tool. The leaves/stem were turned on the lathe as well and carved using a Dremel tool, riffles, and sanded to 400 grit. I used a variety of alcohol ink colors by Adirondak to dye the wood along with iridescent ink by Liquitex Professional to add an irredescent shimmer to the piece.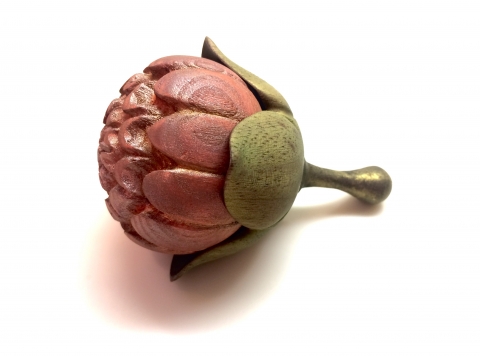 Christmas Ornament
By Justin Fiaschetti at Fiaschetti Woodworking
Winning Category
This project was conceived in order to demonstrate segmented turning on a small scale. This was the most complicated piece I had ever made at the time. Because of this I decided that it deserved a fantastic finish. I opted for a high gloss polyurethane to bring out the beauty of the wood. Before finishing I sanded up to 600 grit and burnished with steel wool. The first three coats I used were a mix of 50% boiled linseed oil and 50% High gloss Polyurethane.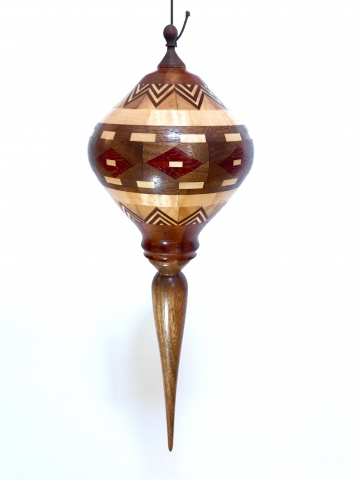 Hollow Globe Ornament
By Sonny Gibson at Tralia Turnings
Winning Category
To start the finishing process I sand to 1500 grit. At this time I airbrush aniline dyes with a denatured alchohol carrier.  I then stabilize the wood globe with thin super glue, once dry I resand to 1500 grit.  The finials are also sanded to 1500 grit before assembly. After assembly the ornament is sprayed overall with one coat of gloss laquer.
This piece is 7 inches in height and 2.25 inches in width.